Buy the book
The Courage to Come Back: Triumph Over TBI — A Story of Hope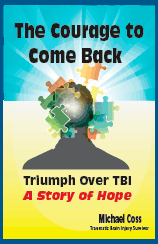 All proceeds from sales of brain injury survivor Michael Coss' book go directly to fund our Treatment for Children program for young people recovering from a traumatic brain injury (TBI).
The book is available for sale on Amazon (PROVIDE LINK).
Book Review: The Courage to Come Back: Triumph Over TBI–A Story of Hope
by Denise Cambiotti, specialized kinesiology practitioner
Source: HANS e-News – January 15, 2012
The Courage to Come Back: Triumph Over TBI–A Story of Hope
by Michael Coss, Traumatic Brain Injury Survivor
http://www.hans.org/enews/images/2012-01-15/the-courage-to-come-back.gifThis book published in 2011 by an expert author comes five years after Michael Coss's car accident and resulting brain injury. In these five years, Michael has had a variety of unusual experiences due to this unfortunate incident.
From coma to reawakening and relearning to walk inch by inch, Michael has been determined to regain his full health–all while keeping a smile on his face.
While Michael is passionate about hyperbaric oxygen therapy (HBOT), which he credits with reawakening him from his coma, he has also spent countless hours pursuing other therapies to regain normalcy in his life. Many hours have also been spent raising funds for the Rick Hansen Foundation for spinal cord injuries and beginning his own foundation to help pay for HBOT for children. Sales of his book are being directed to the Michael Coss Brain Injury Foundation for this purpose.
This book covers his experiences with Watsu, speech therapy, the Lokomat machine and specialized kinesiology–most of these therapies are not yet well known. He mentions his energizing experiences with the seminar Discovering the Power In Me from the WorkSafe BC program, Stand Up for Mental Health and Wheelchair Curling. Michael also shares information about his experience living in a group home environment and the support he received there. Michael includes words of advice to other TBI survivors as well as their families.
It took a few years to complete, yet, letter by letter on the keyboard, Michael crafted this book. It parallels the way he has gathered a team of therapists and pieced together a life that includes sailing, horseback riding and celebrating special events with his friends and family. Most recently he set a goal to train for and complete a one-kilometre walk for the Terry Fox event and he did it in under one hour!
I have always believed Michael could walk again, even when he wasn't able to yet. What I wasn't prepared for was the incredible inspiration he has become for so many. I would recommend this book if a brain injury has affected you or someone in your life. While the therapies he mentions may not be convenient to your location, they are worth knowing about!
Meantime, what you can do is model Michael's process:
- Keep exploring
- Commit to something and really work at it
- Build a team that works well with each other's therapies
- Have an inspiration that keeps you getting up every morning, too!
- And most of all, believe that things can improve
Every inch adds up!
Book review by Denise Cambiotti, specialized kinesiology practitioner located in Coquitlam, BC. (604) 936-5463 info@denisecambiotti.com
---
iGive.com
We welcome financial donations through
iGive.com
.

---
Donate

Thank you for your interest in donating to the Michael Coss Brain Injury Fund which is managed through the Coquitlam Foundation.To support Treatment costs for children, our foundation has created a fund with the Coquitlam Foundation (our local community foundation). Donations may be made online or mailed in by cheque.
Donate online
Kindly make your donation online using the Coquitlam Foundation website. You will be directed to the CanadaHelps.org website where a list of funds will be shown to you so that you may dedicate your gift to the Michael Coss Brain Injury Fund. (Add link)
Canada Helps issues you a tax receipt immediately so you may wish to print it off at the time of your online donation.
Donate by cheque
Please make cheque payable to Coquitlam Foundation and mail to:
Coquitlam Foundation
c/o P.O. Box 2
1207 Pinetree Way,
Coquitlam, BC
V3B 7Y3
A Coquitlam Foundation tax receipt will be sent to you by return mail
---