---
Our family feels fortunate. Now we want to help others.
Since Michael's injury, our family feels fortunate to have met some very special people who have assisted Michael in his recovery. Michael started this foundation because he wishes to give back to others. This section will give you a little glimpse in to the ways we are and continue to touch and contribute to the lives of others, especially through the Treatment for Children Program which helps fund treatment for children who are survivors of brain injury. We welcome your interest and your participation in these efforts.
Helping Children
Meet Alexander
With the help of a $4,000 grant from the Coquitlam-Foundation-managed Michael Coss Brain Injury Fund, Alexander Allcock, a 17-year-old Grade 12 student, has been able to receive hyperbaric-chamber treatment for a brain injury he suffered in a car accident when he was eight years old. Communicating through simple hand gestures, Alexander said he enjoys the treatments and that they help him breathe more freely. We invite you to follow this link to the Coquitlam Foundation facebook page to read more about Alex, HBOT, and to see our Treatment for Children program in action.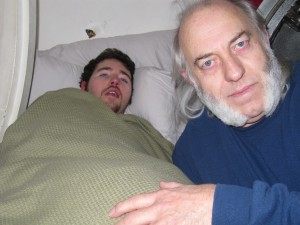 Treatment for Children Program (HBOT)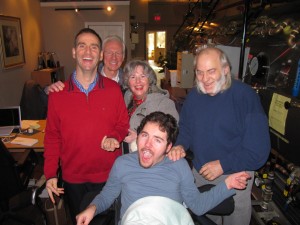 If you have a child who is living with the consequences of a recent or chronic TBI (Traumatic Brain Injury) or ABI (Non-Traumatic / Acquired Brain Injury), then you might be interested in this special program.
In partnership with a support group, Hyperbaric Awareness in British Columbia, WE ARE LOOKING FOR CHILDREN who have recently had a brain injury in order to compile data, evaluate and compare the success of both immediate and delayed, continual application, of Oxygenation (HBOT – Hyperbaric Oxygenation Therapy) to the brain, following either TBI or ABI. Our main focus at this time is HBOT.
The process involves the use of a high pressure oxygen chamber and requires daily treatments for up to 2 months.
Treatments can be undergone twice a day or once a day, each individual treatment lasting up to 2 hours.
QUALIFICATION REQUIREMENTS
Child is under 19 years of age
Child is medically stable and able to be transported
Accessible caregiver during treatment procedure
Recent TBI or ABI (6 months or less) or Chronic TBI or ABI (within 5 years)
Priority for support will be given to a child determined to be most likely to benefit from therapy; a child whose family or support team does not have the financial means for such treatment.
A child from the City of Coquitlam, or from the Tri-Cities, will be given preference. An individual who is not a local resident may be supported if a local child is not identified as in need of, or eligible for support.
As previously mentioned, we work in partnership with a support group, Hyperbaric Awareness in British Columbia. If you feel you can qualify and are interested, then please contact Hyperbaric Awareness in British Columbia at: 1-800-215-1714 to discuss your interest in this program.
To support treatment costs for children, our foundation has created a fund with the Coquitlam Foundation (our local community foundation). If Qualification Requirements are met, we will contact the Coquitlam Foundation to recommend that THE INITIAL 40 TREATMENT COSTS for the therapy be covered by the Michael Coss Brain Injury Fund c/o The Coquitlam Foundation.
---
Michael's Book
The Courage to Come Back: Triumph over TBI – A Story of Hope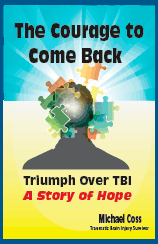 is a moving account of Michael's journey facing the challenges of Traumatic Brain Injury. His life has been changed forever and Michael will tell you it has been changed for the good.
To read Michael's book is to share his story and his hope. Learn, in his own words, what it takes to succeed in the face of tremendous obstacles. Uncover the secrets of Michael's strength and courage and re-connect with your own; discover how to support friends and family with TBI.
Today Michael serves as an inspiration, motivational speaker and catalyst for Traumatic Brain Injury survivors.
He's raised money for Rick Hansen's Wheels in Motion (spinal cord research). Working with Rick inspired Michael to start his own foundation.
"Each year more than two million people suffer a traumatic brain injury. Anyone who has suffered TBI, or knows someone who has, can learn from Michael's story. He is an inspiration and reminds us of the amazing power within each of us. The power to learn, grow and become the best person we can be – even in the direst circumstances." Annette Elton, daughter of a TBI survivor
BOOK REVIEW:
Book review by Denise Cambiotti, specialized kinesiology practitioner located in Coquitlam, BC. info@denisecambiotti.com
Source: HANS e-News – January 15, 2012
The Courage to Come Back: Triumph Over TBI–A Story of Hope
by Michael Coss, Traumatic Brain Injury Survivor
This book published in 2011 by an expert author comes five years after Michael Coss's car accident and resulting brain injury. In these five years, Michael has had a variety of unusual experiences due to this unfortunate incident.
From coma to reawakening and relearning to walk inch by inch, Michael has been determined to regain his full health–all while keeping a smile on his face.
While Michael is passionate about hyperbaric oxygen therapy (HBOT), which he credits with reawakening him from his coma, he has also spent countless hours pursuing other therapies to regain normalcy in his life. Many hours have also been spent raising funds for the Rick Hansen Foundation for spinal cord injuries and beginning his own foundation to help pay for HBOT for children. Sales of his book are being directed to the Michael Coss Brain Injury Foundation for this purpose.
This book covers his experiences with Watsu, speech therapy, the Lokomat machine and specialized kinesiology–most of these therapies are not yet well known. He mentions his energizing experiences with the seminar Discovering the Power In Me from the WorkSafe BC program, Stand Up for Mental Health and Wheelchair Curling. Michael also shares information about his experience living in a group home environment and the support he received there. Michael includes words of advice to other TBI survivors as well as their families.
It took a few years to complete, yet, letter by letter on the keyboard, Michael crafted this book. It parallels the way he has gathered a team of therapists and pieced together a life that includes sailing, horseback riding and celebrating special events with his friends and family. Most recently he set a goal to train for and complete a one-kilometre walk for the Terry Fox event and he did it in under one hour!
I have always believed Michael could walk again, even when he wasn't able to yet. What I wasn't prepared for was the incredible inspiration he has become for so many. I would recommend this book if a brain injury has affected you or someone in your life. While the therapies he mentions may not be convenient to your location, they are worth knowing about!
Meantime, what you can do is model Michael's process:
- Keep exploring
- Commit to something and really work at it
- Build a team that works well with each other's therapies
- Have an inspiration that keeps you getting up every morning, too!
- And most of all, believe that things can improve
Every inch adds up!
Denise Cambiotti, specialized kinesiology practitioner located in Coquitlam, BC.
info@denisecambiotti.com
---
Hear Michael Speak
Michael Coss, Motivational Speaker
Michael is pleased to be invited to come out to speak with organizations, schools and small groups.
Michael, once predicted never to speak again, is gradually building a reputation as a motivational speaker. Michael has been invited to speak at the WorkSafe BC Annual Conference, the Nurses of BC Conference, private business events, and numerous Brain Injury Support groups and public events.
If invited to speak, an honorarium is appreciated to cover the travel costs for Michael and the rehab assistant who will accompany him.
Radio Interviews
Among others, Michael has been interviewed on the Simi Sara Show (CKNW Radio98) and on the Brain Injury Radio Network. To hear Michael being interviewed on the Simi Sara Show, please follow the link below. (Note: The clip has a brief advertisement before the interview begins.)
https://soundcloud.com/cknwnewstalk980/ss-game-changers-michael-coss?in=cknwnewstalk980/sets/the-simi-sara-show
---
Friends & Supporters
Friends & Supporters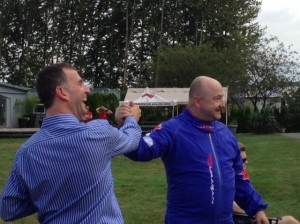 In today's economic environment all entities are realizing the importance of giving back. Help comes from so many directions. Many individuals are motivated to help our cause.
Jean-Pierre Forest, one of Michael's dear friend's career, was interrupted by a terrible airplane crash during skydiving venture in 2008. The accident left him near death. He remained in a coma for many months. He lost the ability to perform basic life functions including eating and walking.
Jean-Pierre's comeback from this tragedy has been remarkable. With great determination and courage he went through intensive physical therapy to get back on his feet. His injuries were life altering and his journey through rehabilitation and his gradual return to Avigilon, his previous employer, has been an inspiration to so many people.
Part of this journey included giving back to the community. One of Jean-Pierre's contributions was a large donation to Michael's Foundation.